LeBron James slams one home during Team USA's gold-medal game victory.
The U.S. men's basketball team defended its Olympic title, holding off stubborn Spain 107-100 for the gold medal.
LeBron James had to take the gold medal from Spain. That's exactly what he did.He scored five points in less than a minute to help the United States hold off Spain, 107-100.
Kevin Durant led the United States with 30 points and 9 rebounds while LeBron Jamesa dded 19 and Kobe Bryant scored 17. As a team, the United States made 15 of 37 three-point shots and hit 48.6 percent of all its shots.
"It's been a long journey for us," said Bryant, who is playing in his last Olympics. "This game was fun. It was a challenge and we stepped up to it."
Coach Mike Krzyzewski is finished too, after leading the national team for the past seven years.
End results
This is likely Kobe Bryant's last appearance in the Olympics -- and he's hoping to make the game memorable.
Kevin Durant embraces LeBron James at the buzzer
Deron Williams #8 of the United States dunks over Serge Ibaka #14 of Spain Kobe in flight. The Laker finished with 17 points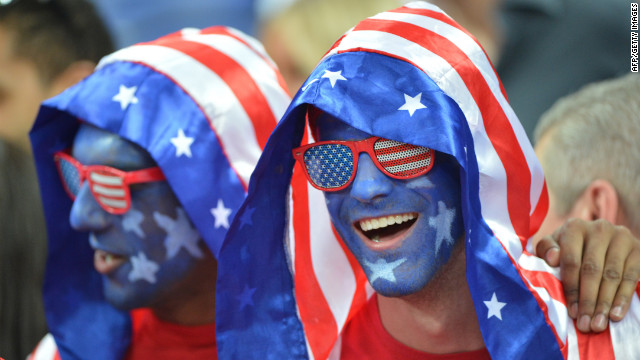 U.S. fans show their support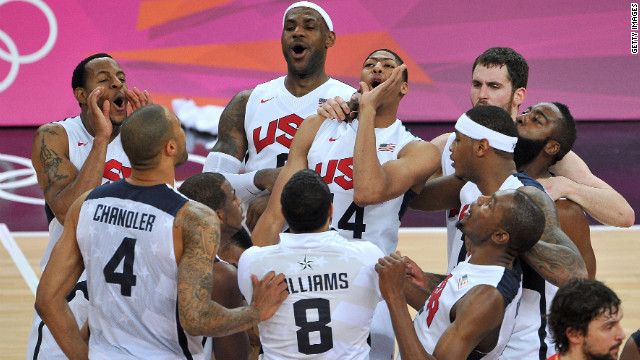 Members of the United States basketball team celebrate after defeating Spain
Gold medallists the United States pose on the podium during the medal ceremony for the Men's Basketball
United States' Kevin Durant, Carmelo Anthony, LeBron James and Kobe Bryant
LeBron James celebrates Carmelo Anthony celebrates the victory over Spain
Team mates Chris Paul #13 of the United States, James Harden #12 of the United States, Anthony Davis #14 of the United States, and Russell Westbrook #7 of the United States celebrate winning gold.
Congrats TeamUSA.....46 gold,29 silver and 29 bronze....way to GO!