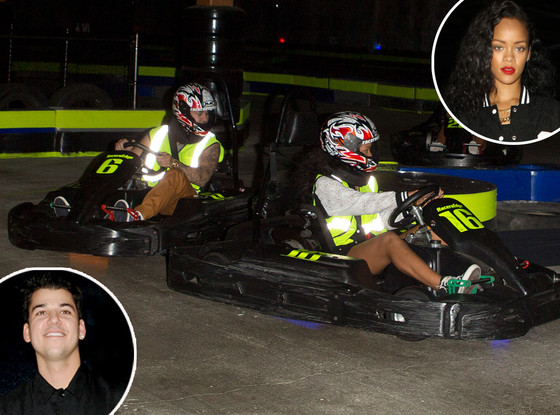 Rob Kardashian, spent the entire day – and night – with pal Rihanna on Saturday, causing fans to speculate that the pair might be more than just friends.
Kardashian, 25, and Rihanna, 24, kept it casual when they squeezed into a pair of go-karts at Racer's Edge Indoor Karting in Burbank, Calif. Saturday afternoon, racing around the track with colorful helmets in tow.
Later that night, the pair headed off to enjoy the rest of the evening at the Playhouse nightclub in Hollywood, according to E! News.
Kardashian, meanwhile, is rumored to be dating singer Rita Ora, though neither of the two have ever openly admitted to their relationship.
Do you think there's something going on between Rihanna and Rob Kardashian? Does this new couple alert gain a thumbs-up or a thumbs-down? Lets wait and see!