We all sweat, but to some of us it comes with body odor. This can be really embarrassing. If you don't have bad armpit odor along with your sweating, consider yourself lucky.
Body odor is the unpleasant smell our bodies can give off when bacteria that live on the skin break down sweat into acids. The bacteria break down protein into certain acids.
Removing strong, bad odors from armpits is not difficult for most people. If an odor remains no matter what you do, you might want to speak with your physician.
Make sure you shower every day to reduce the number of bacteria under the underarms, which leads to body odor.Scrub the armpits with a soapy washcloth as that will work better to remove the bacteria than just soap in your hands. Deodorant soap is preferable as it helps fight bacteria more than regular soaps. If you have a serious odor problem, soak for fifteen minutes or longer in a tub of water with three cups of tomato juice added.
Steam baths or saunas are also ways to cleanse your body.
Use antibacterial soap at least once a day on your armpits to keep skin bacteria to a minimum and, thus, reduce odor.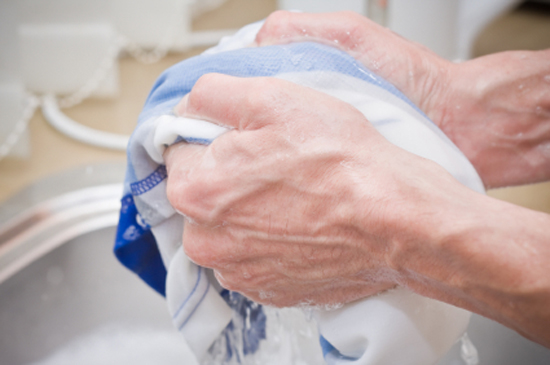 Wash clothes in hot water and detergent to remove dirt and oil, Just wear clean shirts and undergarments.
When you do exercises wear natural fabrics
When you do exercises wear clothing fabrics which shall suck the moisture away from the underarms to prevent odor.It is recommended to wear natural fibers such as cotton and silk, and the other as to help absorb moisture and loose fitting clothes allow your skin to breathe.
Food and drinks, such as soda, onions, garlic, curry, chili are also prime causes of BO. These foods are likely to give you terrible smelling gas and urine. Fried and baked goods may contain rancid fats and oils that lead to body odor.
Eliminate alcohol, coffee, cigarettes, sodas, garlic,meat, refined sugars and saturated fats from your diet. Water is the safest natural remedy to detoxifying your body so drink plenty of it.
Eat a healthy diet that includes whole grains, fruits, vegetables, raw nuts and unsaturated fats to reduce the unpleasant odor
Vinegar, Witch Hazel and Tea Tree Oil
i) Alcohol/witch hazel: If you wipe your underarms with alcohol white vinegar or witch hazel instead of a deodorant it can help you in eliminating underarm odor
ii) Apple cider vinegar is also helpful in eliminating underarm odor when used in place of a deodorant because it reduces the pH of the skin and odor-causing bacteria can't survive in areas of the skin with low pH.
iii) White vinegar is another helpful tool in eliminating underarm odor. You can soak some cotton ball in it and apply to the underarms instead of a deodorant. The vinegary smell will be gone within minutes and you will be odor-free all day
iv) Tea Tree Oil can also be beneficial due to its antibacterial characteristics.
lemons
Using lemon as deodorant isn't just a quick fix. It's more of a way to "condition" your underarms to stop smelling bad.
Take a lemon or lime and cut it in half, rub it gently on your armpit before taking a bath, let it stay for about 5 mins then take a shower.
When you use lemon as deodorant, you are saturating your underarm Apocrine Glands with the acidic juices. Your Apocrine glands are the ones responsible for creating the foul odor. Apocrine glands release secretions from inside the body. Bacteria is naturally attracted to these secretions before they leave your body.
By using lemons as deodorant, the citric acid neutralizes the bacteria in the secretions .
Shaving armpits will also help cut down on armpit odor.Hair traps sweat.