Months after executing his ex-girlfriend, North Korean 30 year old leader Kim Jong-un, has once again killed someone close to him, his own uncle.

According to Korean Central News Agency, Kim Jong-un executed, Jang Song Thaek, (pictured above being led away yesterday) for allegedly 'trying to overthrow the government'."
Jang was also accused of hindering North Korea's state-run production of iron, fertilisers and vinalon - a homemade synthetic fibre - by selling off resources at cheap prices and "throwing the state financial management system into confusion".

Jang Song Thaek had been the leader's adviser and had until recently been regarded as North Korea's second most powerful person after Kim Jong-un.

The 'traitor' was found guilty of treason by a military tribunal and was sentenced to death. He was executed immediately after the hearing.

Jang was removed from his government position at a Ruling Workers' Party politburo meeting on Sunday, he was arrested shortly after that.

Jang was married to Kim's aunt, and had served as vice chairman of the country's top military body for years. See photos after the jump...
The leader and the uncle he executed
Jang pictured left...Kim pictured right
Jang (second) and Kim
Kim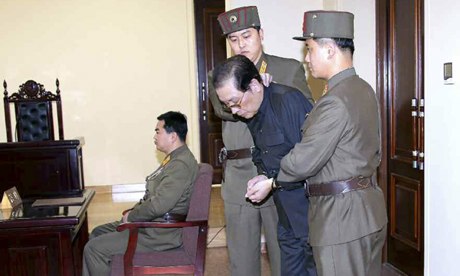 After Jang was found guilty