Each face has a unique shape that will require a specific sunglass shape to accent its features. In order to find the right frame shape for you, you must find your unique face shape. There are seven basic face shapes: oblong, square, diamond, triangle, oval, heart, and round. Your face shape might not fit perfectly into one of these seven common face shapes, but you should be able to match your face closely to one of these shapes.
Below are tips that would be useful in getting yourself the right sunglasses
1. Oblong Shaped Face:-
Ladies with these kind of face finds it really hard to find the perfect pair of glasses. Their face is long with long straight cheekbones like that of Rihanna.Choose frames that are narrower than the widest part of your face, choose medium to large style frames.
2. Square Shaped Face:-
A square face is characterized by a strong, angular jawlines and broad foreheads. Choose glasses that are higher at the top than at the bridge of your nose. Keep in mind that smaller frames can make your head look long.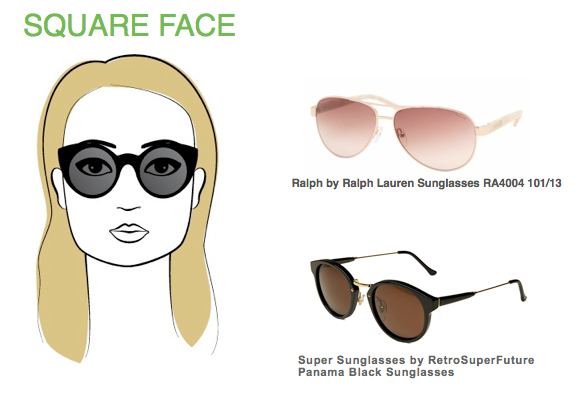 3.Oval Shaped Face:- Oval face shapes are the luckiest ones, if you fall into tis category then you can pretty much get away with wearing whatever shape you fancy.
4.Round Shaped Face:- If you have a round face then choose a frame that is wider than the widest part of your face to create some length, try to stay away from circular frames instead choose angled shapes to avoid your face looking too full.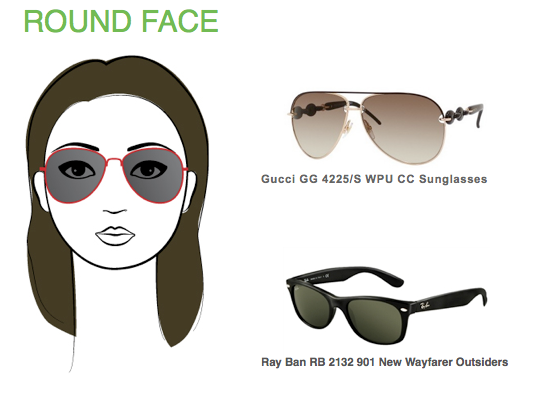 5. Heart shaped face:- They have a narrow chin and high cheekbones. To accentuate your face shape go for cat eye frame or frames that are wider at the top and narrower at the bottom